WHAT IS FASHION-FLAT?
FASHION FLATS BY GARMENT ELEMENTS
FASHION FLATS BY TYPE OF GARMENT
Pleats, gathers, and flares are the main methods of creating volumetric shapes and, accordingly, different silhouettes in garment. When drawing a garment, fashion designer must clearly depict differences between pleats, gathers, and flares. From patternmaking standpoint pleats, gathers, flares are entirely different methods, therefore any confusion in their depiction in fashion technical illustration could cause misunderstanding in the fashion production process.
See examples of fashion design drawingss illustrating main types of pleats, gathers, and flares on the page.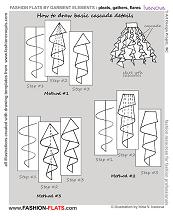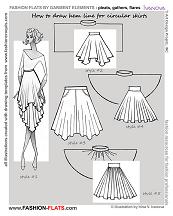 ---